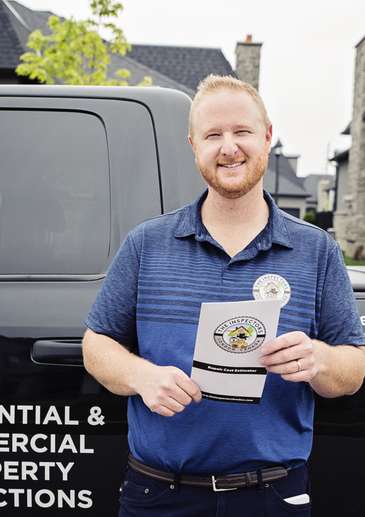 Fast & Easy Booking.
We know you are on short timeline a for home inspection
which is why we guarantee rapid turnaround for your
house hunt. Book your inspection online!

Certified Professionals
Insured & licensed InterNACHI-certified experts. We utilize
the latest technology for the highest-quality inspections.

Personalized Service.
We have plenty of experience supporting Realtors and
their clients. Our detailed reports are delivered the same
day and we continue providing ongoing support.
How can we solve your inspection challenges today?
Includes Comprehensive Home Inspection plus: Aerial roof (drone) inspection**, Infrared/Thermal scan, Infrared Moisture imaging and Air Quality check
Home Inspections
Learn about the condition of your home before you buy or sell your home.
Condo Inspections
Get peace of mind with a condominium inspection from the leaders in the industry.

Commercial Inspections
Prompt and professional property condition assessments by a trusted inspector.

New Home Inspections
Our new construction inspectors evaluate the home according to the Tarion Warranty Program.
Rates are subject to change without notice
*HST is not included
*Rates for homes up to 2000 sq.ft. Each additional 100 sq.ft. over 2000 sq.ft. is an additional $10
*Homes over 75 years old: add $50
*Multiple family/unit dwelling: add $100 for each additional unit
**If required
Choose your plan and get started.
All plans include the following features: infra-red camera and a detailed report after each inspection that will be emailed within 24 hours.
What you can expect to receive after the inspection
Your home inspection report is highly visual and easy to read. The report includes text and photos of your home, that identifies what components are performing well, and what needs to be replaced or fixed. Our reports are made to help you understand your property better, and to keep homeowners safe.

Fast & easy booking - book your inspection online

Thorough inspection performed by a licensed and insured professional

Easy-to-read report

Peace-of-mind that your home is the right investment
Proudly serving Southwestern Ontario from London to Sarnia to Woodstock.
Our guarantee to our clients.
We are committed to protecting your investment and providing with you with fast & reliable service. That is why we guarantee rapid turnaround for home inspections. If we cannot schedule your inspection within the next 3 business days, we will give you $50 off the inspection.
Ready to book an inspection?